Cerberus and Hades
I was scheduled to debate James White in October of this year concerning the Trinity but that debate will have to be rescheduled at a later time. In that debate I intended to ask White about his analogy of the Trinity. Recently, White and William (Bill) Craig, have been discussing the frightful nature of analogizing the Trinitarian doctrine. In an earlier post in April of 2011 I was discussing the eternal begotten Son doctrine where Trinitarians do not imagine "day" to be a period in
temporal
space but a timeless, incomprehensible process in
atemporal
space. I noted that Trinitarians "invoke a philosophical conclusion and then avoid explaining how that is so at all cost. In fact, every example or analogy of the Trinity will fail as has been repeatedly demonstrated (e.g. three headed dog Cerberus used by William Craig and J.P. Moreland in Philosophical Foundations for a Christian Worldview)." I have also discussed the Trinitarian argument using 1x1x1=1
here
.
In a
recent podcast
responding to White's criticism of the Cerberus analogy (Greek mythological creature pictured above) Craig once again asserted the Cerberus analogy but rejects and denounces it as inadquate a few moments later. Craig indicates he is simply trying to explain his views in a comprehensible fashion. It is wise to admit that no analogy is perfect and is only good as far as it goes but a three-headed dog seems to be a non-starter. It seems that White and Craig both affirm and acknowledge this despite the analogy comparisons between them. Conversely, Unitarian philosopher Dale Tuggy contends God is analogous and has criticized White and Craig
here
.
In a
video
on March of 2012, criticizing Craig for his analogy, ironically White also produced his own. Surprisingly, Craig does not offer criticism of White's analogy which is called the
Trinity Box
. He does indicate that all analogies fall short but indicates that using them does help to make progress towards understanding the affirmations of the Trinity.
The Trinity Box? The name sounds like an upcoming video game by Sony but it is actually White's attempt at analogizing the "revelation" of the Trinity. White has rightly criticized Trinitarian philosophers and apologists for referring to Cerberus. But what of his Trinity Box which he posits in their place? As Craig points out there is nothing wrong with positing an analogy or using thought experiments to get a point across. If one realizes the limits of the analogy this is fine and well but I get the impression White feels the Trinity Box is a little better off than Cerberus. I must admit Cerberus is about as bad an analogy that I have ever heard but the Trinity Box is not any better or successful by any measure.
White qualifies his analogy by saying that he believes God is the only being who exists as the Trinity. Therefore, there is nothing which is completely analogous to the Trinity. But as Craig does he also sees the limited benefit of analogies. The Trinity Box is a homemade illustration consisting of a little black box with an opening on one end and three on the other. Plug the cord into the electrical outlet and bingo--the revelation of the Trinity.
Actually, one end shows one opening of white light and the other has been made as to only show the three primary colors (red, green and blue). See the graphic above. That seems a little arbitrary but he explains that the white light in the light spectrum is analogous to the divine nature of God. Yet, the one white light in the Trinity Box can also be seen as red, green and blue. Thus God (white light which must represent His being) is revealed as three colors (red, green, and blue) or three persons (Father, Son and Holy Spirit). White contends in this analogy the revelation of the Trinity does not reveal something new but shows us something we simply have never seen before. White considers this analogy to be more fitting to the revelation of the Trinity as the three divine persons are believed to be eternally pre-existing and equally sharing in the divine nature.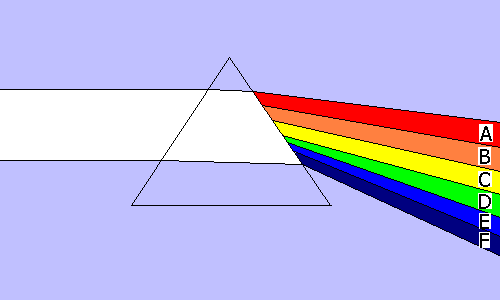 In the graphics above we quickly see there is much more to be seen than red, green or blue. God's creation of light is not limited to three primary colors and a prism can be manipulated to produce more colors. One could ask then is there more revelation? Will we see more light in our glorified state? Perhaps, in the new heavens and new earth? For example, ultra-violet and infra-red are also colors in the light spectrum and with secondary instruments can easily be seen as well.
Which persons of the Trinity could these new colors represent? One must ask then is the revelation of God's divine nature (white light) really complete? After all, the three persons were not revealed to Abraham, Isaac, Jacob or even Moses who spoke with God and met Him face to face. Do we have a guarantee, in Scripture, that the Trinitarian revelation is complete?
Even the early and original Nicene Creed is not explicitly Trinitarian since its principle aim is Christological. This is not hopeful. Even in an embryonic creed a more explicit Trinitarianism is to be hoped for given the 1) divine inspiriation of Scripture gone before hand and 2) the conscious knowledge of the Trinity by the Bible writers (as Trinitarians must presuppose). Yet, after this original creed many more followed until a codified and articulate doctrine of the Trinity was hammered out by the Cappodocian bishops of AD 451.
Certainly this Trinity should be in later Church History literature where writers are supposedly building off New Testament concepts. Yet, many of these writers in the second century and after do not show an adequate appreciation to the Old Testament or Jewish heritage in which the Bible writers came from. The technical sense in which Trinitarians describe the Incarnation or the properties of the Father, Son and Holy Spirit are not found in Scripture but must come from later creeds and later formulations. Trinitarians argue from certain Bible passages and thus the Trinitarian must conclude that the Trinity is present in the consciousness of certain early Biblical writers and communities such as Phillippi or Corinth. These are necessary hermeneutical presuppositions for Trinitarianism in order for it to be an explicit teaching of Scripture. With such a knowledge repository and divine inspiration a more explicit Trinity should be found.
We should not have to appeal to frightening analogies of a dog with three heads that would scare the Pentecostal or Puritan school child. Nor to instantly contradictory arguments from nature such as the Trinity Box. As noted in prior posts and confirmed by many Biblical scholars, the Bible writers do not clearly and explicitly teach a doctrine of the Trinity. Instead, it must be pieced together, much like a quilt, from certain passages seen as applicable using the Trinitarian presupposition.